Louisiana once again has the highest incarceration rate in the U.S., (Rates calculated per 100,000 people) unseating Oklahoma to return to its long-held position as "the world's prison capital." By comparison, states like New York and Massachusetts appear progressive, but even these states lock people up at higher rates than nearly every other country on earth. Compared to the rest of the world, every U.S. state relies too heavily on prisons and jails to respond to crime.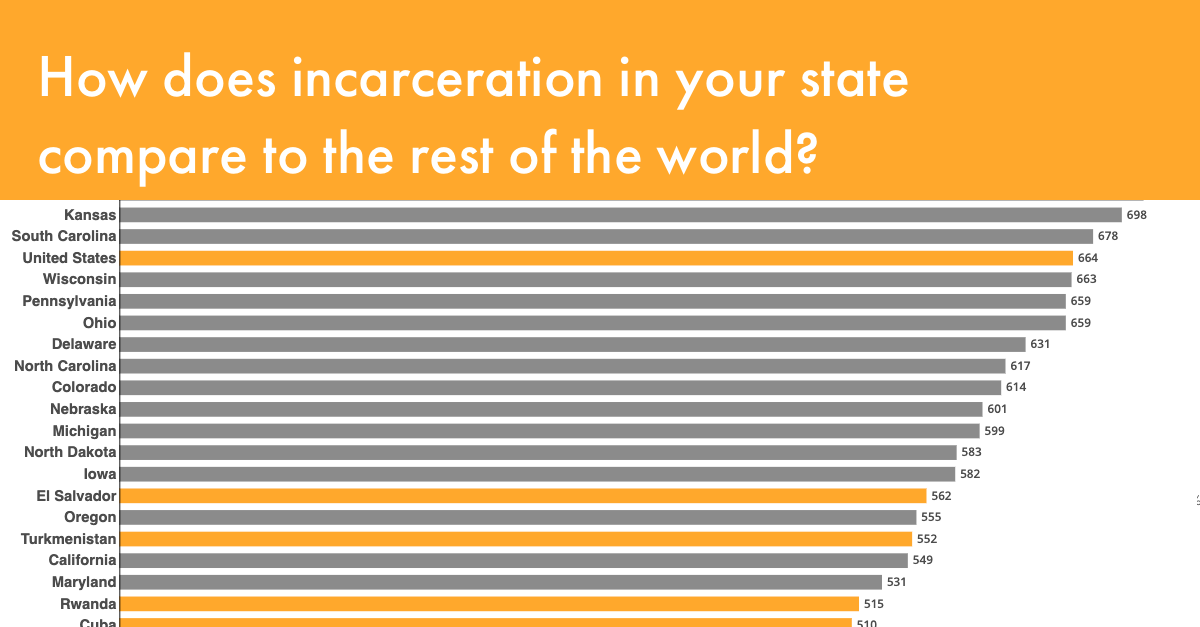 Looking at each state in the global context reveals that, in every region of the country, incarceration is out of step with the rest of the world.
If we imagine every state as an independent nation,  every state appears extreme. 24 states would have the highest incarceration rate in the world — higher even than the United States. Massachusetts, the state with the lowest incarceration rate in the nation, would rank 17th in the world with an incarceration rate higher than Iran, Colombia, and all the founding NATO nations.
In fact, many of the countries that rank alongside the least punitive U.S. states, such as Turkey, Thailand, Rwanda, and Russia, have authoritarian governments or have recently experienced large-scale internal armed conflicts. Others struggle with "violent crime" on a scale far beyond that in the U.S.: South Africa, Panama, Costa Rica, and Brazil all have murder rates more than double that of the U.S. Yet the U.S., "the land of the free," tops them all.
Even "progressive" states like Illinois, with incarceration rates below the national average, continue to lock people up at more than double the rates of our closest international allies
Continue reading full article with graphs